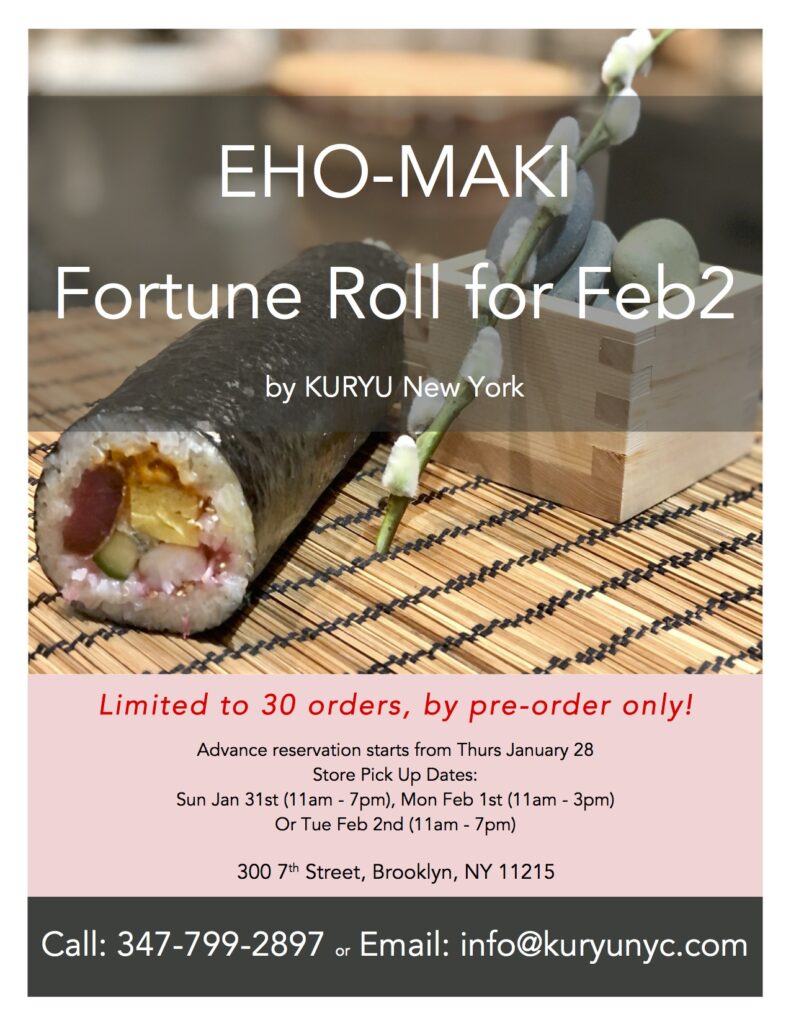 Celebrating 2021's Setsubun with our original Eho Maki, the Fortune Sushi Roll.
LIMITED TO 30 ORDERS ONLY! so order quick to enjoy our seasonal
special roll at an unbeatable price of $25+tax.
Setsubun is the day before the beginning of Spring in the old calendar in Japan,
which represents an important period to bring in good fortune and good
luck to refresh your fortunes before the new season arrives.
2021's Setsubun is especially unique as it is held on Feb 2nd for the
first time in 124 years (which is normally held on Feb 3rd) so let's
have Eho-Maki, drive away those evil spirits, cleanse and refresh our
fortunes to welcome in the new spring season!
We only take advance reservations starting from today, Thurs January
28 by call, email or in-store pre-order by cash or credit card.
Pick up dates: Sun Jan 31st (11am – 7pm), Mon Feb 1st (11am – 3pm), or
Tue Feb 2nd (11am – 7pm) of your choice!
Eho-Maki Fortune Sushi Roll by Kuryu New York
Ingredients:
Zuke-Hon-maguro (bluefin Tuna pickled in soy sauce), Anago sea eel, egg omelette, cucumber, Sakura-Denbu (mashed seasoned codfish), shrimp and king crab.